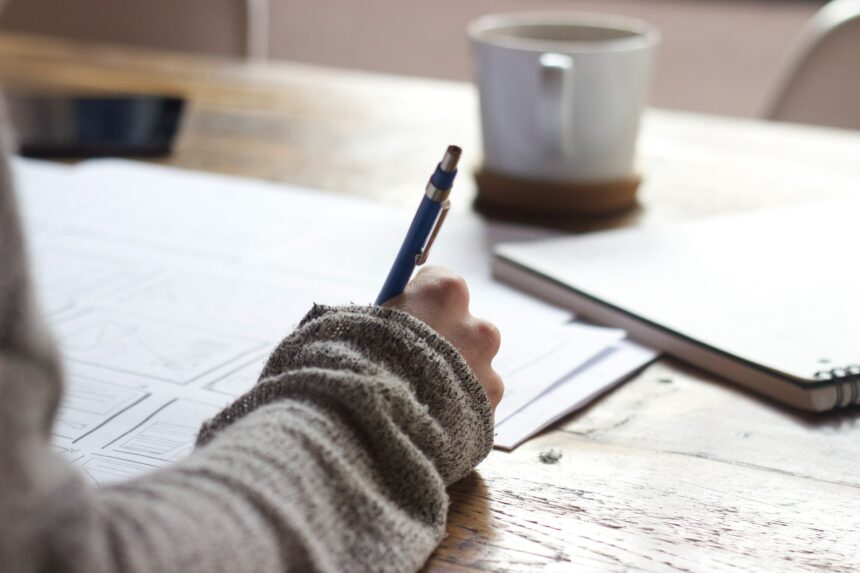 College admissions officers have their own preferences when it comes to essays, but they all tend to agree on what they dislike. It can be disheartening to think that you can't guarantee a perfect essay, but avoiding certain mistakes will increase your chances of success. A blunder in your college essay could potentially cost you admission to your dream school. The good news is that many of these mistakes can be easily avoided if you understand what they are and why they matter. If you're looking for guidance, here's a closer look at what you should avoid writing in your college application essay.
#1 No need to show off your Academic Superhero Cape!
(aka – avoid repeating information) Your grades and awards already speak volumes. Let's focus on the real YOU! Think about what the application already says about you and avoid repeating the information already present in your academic record, such as your grades, test scores, and extracurricular activities. Instead, focus on unique aspects of your personality and experiences.
# 2 Don't Be a Topic Troublemaker:
(aka – avoid controversial topics)Stay away from controversial subjects that'll make the admissions officer do a double take! No political hot buttons, please! Examples: Avoid writing about gun control, abortion, or immigration policies.
#3 Say No to Essay Monotony:
(aka – avoid a general topic)It's not a robotic analysis; it's a character-revealing adventure! Share specific moments that highlight your amazing self in action! For instance, write about a particular challenge you faced and how you overcame it, revealing your determination and resilience.
#4 Famous Quotes, Really?
(aka – avoid opening with a famous quotation)Unless it's your life motto, let's save the inspirational stuff for Pinterest boards. Your own words rock, buddy!
#5 Avoid Making Someone Else the Star:
(aka – avoid writing about someone else) Though it might be tempting to write extensively about a role model or someone else's accomplishments, it's a bad idea. Making them standout is not the goal. The essay should primarily focus on your own experiences, growth, and achievements.
#6 Don't Dribble Away Your Essay on Sports:
(aka – avoid sports) Sports enthusiasts, listen up! Even if you're the next LeBron or Serena, don't dribble away your essay on sports. Show them your versatility! Everyone writes about sports. Even if sports are your strong suit, it's advisable to avoid writing solely about them. Instead, explore other aspects of your life or personal interests to provide a well-rounded portrayal of yourself.
#7 Tragic Topics Need a Twist:
(aka – avoid tragic topics)Tragic tales need a twist! Only focus on personal growth through tough times. No tearjerker drama without redemption, please!. Here are some examples:Loss of a loved one: While it can be tempting to write about the profound impact of losing a family member or close friend, it's important to shift the focus towards personal growth, strength, or lessons learned from the experience. Avoid dwelling solely on the sadness and grief associated with the loss.Serious illnesses or medical conditions: Writing about personal health struggles can be challenging, as it's important to strike a balance between sharing the experience and highlighting one's ability to overcome adversity. Focus on resilience, determination, or the insights gained from facing the challenge rather than just recounting the medical details.Natural disasters or tragic events: Discussing traumatic events like earthquakes, hurricanes, or acts of violence can be sensitive. If you choose to write about such events, it's crucial to emphasize personal growth, community resilience, or efforts made to contribute positively towards recovery or prevention. Avoid sensationalizing or dwelling excessively on the tragedy itself.Personal accidents or injuries: If you've experienced a serious accident or injury, be cautious when writing about it. Instead of focusing solely on the negative aspects, highlight your determination, perseverance, or the lessons learned during the recovery process
#8 Start With a Bang, Not a Yawn!
(aka – avoid preludes)This is an essay about…" Snoozeville! Starting your essay with a generic introduction lacks creativity and engagement. Grab the reader's attention with a compelling opening that sets the tone for your unique story.
#9 No Fairy Tale Ending:
(aka – avoid cliché endings)No happily ever afters, my friend! Show them your learning, don't tell them. Leave 'em wanting more! Conclude your essay without resorting to a cliché ending. If you have effectively conveyed your growth and lessons learned throughout the essay, there's no need to explicitly state it again in the conclusion.
#11 Don't Play Professor Know-It-All:
(aka – avoid campaigning)Avoid pleading your case. Let your story speak for itself! Refrain from telling readers what they should think or advocating for a particular viewpoint. Instead, focus on expressing your own thoughts and experiences without trying to persuade or convince the reader.
#11 No Black Holes:
(aka – avoid being flawless)Don't get lost in your own thoughts. Embrace your complexities, including your mistakes and imperfections, rather than presenting an idealized version of yourself. It's more effective to embrace vulnerability and showcase personal growth. Admissions officers value authenticity and want to understand the real person behind the achievements. Sharing genuine experiences, including setbacks and lessons learned, allows the reader to connect with the applicant on a deeper level and fosters a more meaningful understanding of their character and potential contributions.
#12 Too Much Info Alert!
(aka – avoid oversharing)Be cautious about sharing too much information in your essay. While no stories are off-limits, present them in a way that captivates the reader and invites them into your experience, rather than traumatizing the reader and pushing them into a black-hole. Example: In an essay, one of our students delved into a traumatic event from his childhood where he witnessed a violent crime. Rather than approaching the topic with sensitivity and focusing on personal growth, he described every gruesome detail of the incident. He vividly recounted the blood-soaked scene, the screams echoing in his ears, and the fear that consumed Him. The essay became a graphic and unsettling account that could potentially disturb or traumatize the reader.While it's important to share personal experiences authentically, it's equally crucial to consider the emotional impact on the reader. Oversharing in this context involves providing excessive and distressing details without proper consideration for the potential impact on the audience. Instead, it would be more appropriate to focus on the emotional journey, resilience, and personal growth that stemmed from that traumatic event, while omitting explicit and potentially traumatizing elements.
#13 Leave the Fiction To the Novels:
(aka – avoid lying)No made-up stories about yourself, okay? Keep it real, authentic, and genuine! Never fabricate stories or exaggerate your experiences in your essay. Admissions officers value honesty and integrity, and it's important to present genuine narratives that reflect your true character.
#14 Avoid The Ego Extravaganza!
(aka – avoid overconfidence) No need to shower yourself with endless praise. Instead, embrace humility and share a moment of doubt or setback. It's all about growth, baby! Consider discussing a setback or moment of doubt that highlights your resilience and personal growth.Student Example:In my college essay, I proudly proclaimed, "I am simply exceptional in everything I do. From acing every exam to effortlessly leading multiple clubs and winning countless awards, my accomplishments speak for themselves. It's clear that I am the epitome of greatness and a force to be reckoned with."This example exudes an overconfident tone by emphasizing the author's achievements without any humility or self-reflection. It lacks depth and fails to provide insight into the person behind the accomplishments. The essay solely focuses on accolades and fails to highlight personal growth, setbacks overcome, or lessons learned from challenges.
#15 Don't Diss The Reader:
(aka – avoid belittling)Refrain from talking down to or demeaning the reader in your essay. They are not minions. Keep the tone respectful and inclusive!
#16 Dump Being Robotic-Like:
(aka – avoid being cold) Let your emotions flow like a river. Show them the real you, with heart and soul! Infuse the essay with your emotions, allowing your genuine feelings to shine through in your storytelling. Unlike the essays you've written for class, this essay provides an opportunity to showcase your unique voice and personality. Student Example: "Instead of writing a bland and emotionless account of my volunteering experience at a local animal shelter, I poured my heart into the essay. I vividly described the overwhelming joy I felt when I first met the abandoned puppy, with his timid eyes and wagging tail. I shared the genuine empathy and compassion that welled up inside me as I nurtured him back to health. Through my words, the admissions officers could feel the sense of purpose and fulfillment that I experienced, and they could connect with my passion for animal welfare. By infusing my essay with emotions and letting my genuine feelings guide my storytelling, I was able to showcase my authentic self and create a memorable and impactful essay."
#17 Don't Be a Broken Record:
(aka – avoid repeating the same words and sentences) Break the repetition cycle! Spice up your writing with varied words and sentence structures. Keep it fresh and exciting! Repetition can make your writing monotonous and dull.
#18 Look For Grammar Gremlins and Wonky Formatting:
(aka – avoid errors) Pay attention to typos, grammatical mistakes, punctuation errors, and formatting issues. These errors can distract the reader and undermine the overall quality of your essay. Proofread your work carefully and consider seeking feedback from others to ensure your writing is error-free.
#19 Chill Out On the Negativity!
(aka – avoid being negative about the college you're applying to)Keep any negative thoughts about the college to yourself. Focus on why you're excited to be part of their community. Positive vibes only! Focus on highlighting your fit with the institution, its values, and what you can contribute to the campus community.
#20 Don't Waste Time:
(aka – avoid procrastinating) Get those admission officers smiling, not cringing. Make sure to give yourself enough time to write your essay. It's best to start early and take your time to create a great piece of writing. If you're struggling to come up with ideas, try brainstorming with friends or making a list of potential topics. Don't worry if your first attempt isn't perfect, as the more time you have to work on it, the better it will become. Remember, good writing takes time, so start early and give yourself the time needed to produce a high-quality essay.
Ready to impress the college of your dreams with a standout essay?
Don't stress! We got you covered. Our essay writing coach, Mrs. Miller, is here to guide you through the process and help you present the best version of yourself on paper. Don't hesitate to reach out for the support you need to succeed. Contact us today.